UART pin 20 Voltage swing

Posted:
Thu May 19, 2011 9:18 am
HI I have a problem using uart with my radio. I have verified that I am sending the correct signals and that the radio responds to those signal. I was doing some trouble shooting and it looks to me like when the dspic33 in the dev board does not drop close enough to 0 volts when it transitions. The line is high at 3.3V and drops to about 2V and does not pass the threshold voltage the the radio reads as a 0. I believe that the radio thinks the line is high the whole time. the attached img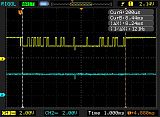 is the scope of when the micro controller sends out the command and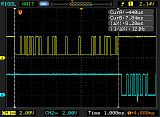 is when i Have a Terminal send out the same signal and you can see the radio response.